Agapi Stassinopoulos is a best-selling author and speaker who inspires audiences around the world.
In one of her first books, "Unbinding the Heart: A Dose of Greek Wisdom, Generosity, and Unconditional Love," she shares the wisdom from her life's adventures and experiences. In her latest book, "Wake Up to the Joy of You: 52 Meditations and Practices for a Calmer, Happier Life," she takes readers on a journey and inspires them to let go of what doesn't work and instead create the lives they really want. Agapi was trained in London at the Royal Academy of Dramatic Art and then moved on to receive her master's degree in psychology from the University of Santa Monica. Her two books on the Greek archetypes, "Gods and Goddesses in Love" and "Conversations with the Goddesses," were turned into PBS specials.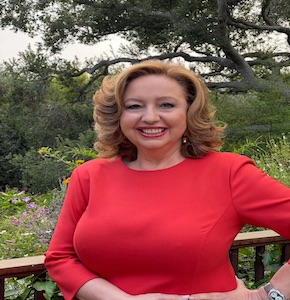 Author and Motivational Speaker
In her newest book, "Speaking With Spirit: 52 Prayers to Guide, Inspire, and Uplift You" (On Sale 1/11; Harmony Books Hardcover), Agapi presents a non-denominational guide to harnessing this power of prayer in your life and using it to find connection, peace, and gratitude. She is currently conducting workshops for Thrive Global, a company founded by her sister, Arianna Huffington, to help change the way we work and live. Agapi has spoken and conducted meditations at many organizations and companies including L'Oreal, Accenture, SAP, LinkedIn, Pandora, Google, Nike, Weight Watchers, PepsiCo, Starbucks, Global Citizen Company, Museum of Modern Art, ABC Carpet & Home, Women's Health Magazine, Paul Mitchell, NYU, Gympass, and Hearst Communications amongst many others. She brings home the importance of self-care, practicing gratitude, generosity and self-love to enhance performance and productivity so we can experience happiness and fulfillment. She divides her time between New York and Los Angeles and was born and raised in Athens, Greece.
Find Her online at www.WakeUptotheJoyofYou.com
Social Media
Instagram: @agapisees
Facebook: https://www.facebook.com/AgapiStassinopoulos
Twitter: @agapisays
HOW TO LISTEN
YOU CAN LISTEN ANYTIME ON OUR WEBSITE OR SUBSCRIBE TO
ENDING DOMESTIC ABUSE IN YOUR FAVORITE PODCAST APP: