March is National Women's History Month. This episode features Kanchan Bhaskar, an author, mother, and survivor of domestic abuse.
Kanchan was born in New Delhi to educated and enlightened parents with a modern outlook. Her environment at home was progressive, rooted in strong values based on caring, respect, trust, and, most importantly, gender equity.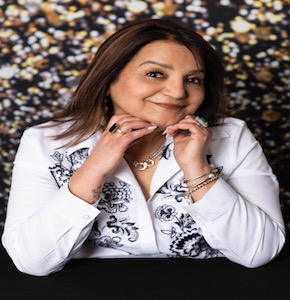 Author, Mother, Survivor, Fighter
She earned her undergraduate degree from Lady Irwin College, and she pursued and earned a master's degree in social work (MSW) in 1978 from Delhi School of Social Work, Delhi University. This is where she joined a small group of women, challenging the societal norm of women's oppression and fighting for women's rights and empowerment. She continued to pursue her studies with an aspiration to work with blue-collar workers in the Industrial sector and understand their dynamics; she took up a postgraduate certificate in personnel management and industrial relations.
Her professional career began in 1987 in Human Resources and development, working for a large conglomerate based out of the USA. She moved to the USA in 2000 and continued working with global companies.  Her interest and expertise in the thirty years of my career have been strengths development through training, mentoring, counseling, and coaching individuals.  She is an ardent optimist and believes in living life to the fullest. Music of any genre or language, vocal or instrumental, keeps her connected to her soul.
Her inquisitiveness to understand cultures and ethnicities has taken her to travel to Asia and Europe. She relies on basic principles of physics, gut feeling, rewiring of the brain, and Karma theory-As you sow, so shall you reap. She strongly believes in the higher power and power of the universe and that one can regulate one's destiny. Her mantra for remaining mindful is Acceptance, Gratitude, and Forgiveness.
She is a survivor of domestic abuse, but she likes to call herself a fighter. She has three loving children, a daughter, and twin boys, who are well-settled in their lives in the USA. She currently lives in Chicago with her Maltipoo, Fifi.
A note from Kanchan: I am a first-time author of a memoir, Leaving- How I set myself free from an abusive marriage.  The purpose is to reach out to the victims and survivors of domestic violence through my story and share with them how I transformed to set myself and my children free. I have now transcended into a professional Advocate- mentoring, counseling, and coaching people with domestic violence. I shall continue to do so through the rest of my journey. I am reminded of my favorite lines by Robert Frost: "The woods are lovely dark and deep, but I have promises to keep, and miles to go before I sleep and miles to go before I sleep."
HOW TO LISTEN
YOU CAN LISTEN ANYTIME ON OUR WEBSITE OR SUBSCRIBE TO
ENDING DOMESTIC ABUSE IN YOUR FAVORITE PODCAST APP: