Our seventh episode of Ending Domestic Abuse sheds light on a "forgotten crisis:" sexual assault and domestic violence in our military. Dr. Ludy Green sits down with retired Brigadier General and Army psychiatrist Loree Sutton to discuss the barriers victims face to reporting abuse and finding justice, as well as needed reforms to promote a healthier military culture.
This episode features a promotion for My Sister's Place, an organization that provides emergency shelter and essential programs for victims of abuse. If you live in the DC area and need help, visit www.mysistersplacedc.org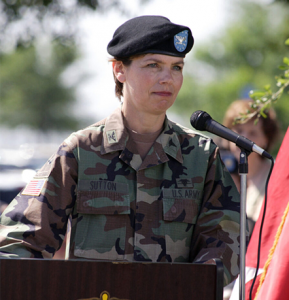 Retired Brigadier General.
Loree Sutton, MD is a lifelong public servant and retired Brigadier General who, as the Army's highest-ranking psychiatrist and Commissioner of New York City's Department of Veterans' Services, has devoted 35 years of service to the nation and New York. Loree's decorated Army career includes earning a Bronze Star for her actions in combat while deployed to Operation Desert Storm, during which she was responsible for the mental health care of 25,000 troops as the 1st Armored Division Psychiatrist.
Selected as a White House Fellow, the nation's premier leadership program, Sutton joined the faculty at the Uniformed Services University of Health Sciences to command the Carl R. Darnall Army Medical Center at Fort Hood, Texas during the height of Operation Iraqi Freedom hostilities. Serving as the Founding Director of the Defense Centers of Excellence for Psychological Health and Traumatic Brain Injury, Loree's visionary leadership yielded transformational change for generations to come.
In New York City, Loree served as the Founding Commissioner for New York City's Department of Veterans' Services (DVS), engaging continuously with New Yorkers for five years in all five boroughs. Under Sutton's leadership DVS pioneered numerous groundbreaking policy and innovative program successes.
Married to her wife, Laurie Leitch, Loree is stepmother to Laurie's two children, Chris and Lindsay, and cherishes their two grandsons. They share their home with beloved pup Moxie, and are forever proud New Yorkers.
HOW TO LISTEN
YOU CAN LISTEN ANYTIME ON OUR WEBSITE OR SUBSCRIBE TO
ENDING DOMESTIC ABUSE IN YOUR FAVORITE PODCAST APP: