Leah Sullivan and Delaney Drexler are the founders of Peachy Keen Swim, a size-inclusive swimwear company made with recycled materials.
Peachy Keen's goal is to empower people to feel confident wearing swimwear, while creating garments that minimize environmental impact.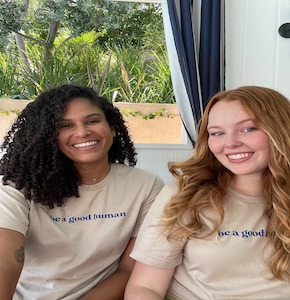 Entrepreneurs, Ethical Fashion Advocates
On this episode of Ending Domestic Abuse, Dr. Ludy Green speaks with special guests, Leah Sullivan and Delaney Drexler.
Leah and Delaney founded a sustainable swimwear company together called Peachy Keen Swim. Tune in to hear about Leah and Delaney's journey of starting a business while in college (and for Delaney, while also raising her child!), the Self Love Size Chart, and the importance of sustainability in fashion. They also share advice for women thinking of starting their own business and for finding self-love through inner confidence!
HOW TO LISTEN
YOU CAN LISTEN ANYTIME ON OUR WEBSITE OR SUBSCRIBE TO
ENDING DOMESTIC ABUSE IN YOUR FAVORITE PODCAST APP: